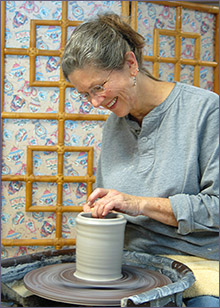 I took my first wheel-throwing class in the summer of 1990 and I was "hooked" from the first class! I am just as excited working with clay now as I was that first time! It's always magical!
I have always been awed and inspired by nature and most of my work reflects this. I experiment constantly with new forms and glaze combinations to best express this inspiration. See My Work for examples. I sell my work at several stores, from my studio, and at craft fairs. See Shows and Sales for details.
I teach wheel-throwing classes at the Reston Community Center at the Lake Anne Plaza in Reston, Virginia. I also teach salt-firing workshops for potters who would like to have the experience of firing their work in salt. I have worked hard to create fun, friendly atmospheres for students to create, experiment and learn. See Visit My Studio and Classes and Workshops for more information. I feel very fortunate to be teaching something that I love to people I enjoy!
I live in Reston, Virginia, part of the Greater Washington, DC area and we have many opportunities here for the pursuit of ceramic appreciation, study, and networking. See Resources for Clay Artists to find out where to buy clay supplies, take classes, and buy pottery. There is also a section listing well-known craft schools that offer workshops out of state.
» My Biography | Phone: 703-615-7872 | Email: marianne@cordyack.com | Facebook: http://www.facebook.com/marianne.cordyack